Adaptations
One of the purposes of FEN is to research and innovate the ENA model, adapting its principles and pedagogy to new contexts and populations and making new conceptual developments.
Escuela Activa Urbana:
In 1987 -with the support of the Inter-American Foundation- FEN´s team designed and adapted the strategies and materials of the ENA model to the urban context (monograde classrooms), calling it Escuela Activa Urbana.
FEN was not only a pioneer in this adaptation but also in its implementation in several cities in Colombia. This is how the experience of Escuela Activa Urbana began in several schools in urban areas of the country (Bogota, Soacha, Pamplona, ​​Cali). To learn more about the history of the EAU, click here.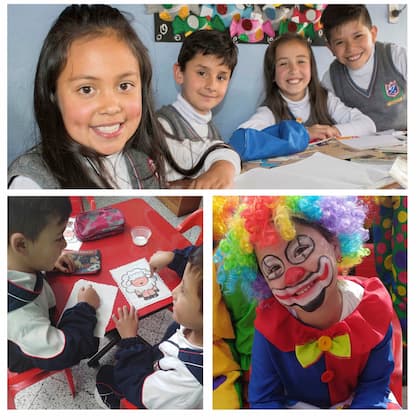 ENA Learning Circles:
In 2001, FEN designed the Escuela Nueva Activa Learning Circles program as a strategy to restore the educational service for out of school children and youth in a situation of emergency. This adaptation -which is based on ENA´s core principles and technical and pedagogical framework- responds to the needs and reality of children in extreme vulnerability, luring and retaining them and facilitating their transition to the formal educational system. For more information click here.
ENprender Circles:
This adaptation of the Learning Circles program takes place in out-of-school periods and promotes better use of free time as well as the strengthening of socio-emotional skills and the development of life projects, offering safe and affective environments and flexibility in teaching strategies. For more information, click here.